DAILY KIBBLE CONTEST: WIN a $25 Howl-o-ween Costume Gift Card from Pet Krewe (10 winners!)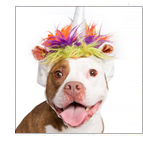 Halloween is right around the corner which means it's time to figure out what Fido and Fifi are going as this year. And our friends at Pet Krewe, a New Orleans-based pet costume store/website (and who knows more about costumes than people in New Orleans?) are here to help.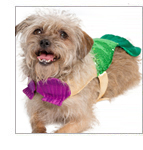 Choose from a wide variety of the cutest pet costumes on the planet. Transform your pet into a Police Officer ("license and registration, please"), Mermaid, Unicorn (definitely one of our faves), Pirate ("aargh"), Sailor ("ahoy matey"), Elf, Scary Spider ("boo") or one of many other fun options. These costumes feature an adjustable elastic tie-down cord to make it easier than ever to dress your pet. And be sure to also check out Pet Krewe Go - an augmented reality app that will take your pet's costume to a whole new level by creating a magical world around them. Seeing is believing!
It pays to read Daily Kibble. 10 lucky Daily Kibble subscribers will WIN a $25 Gift Card for PetKrewe.com. You can enter DAILY from October 5, 2018 to October 19, 2018 to increase your chances of winning! One entry per email address per day please. On October 20, 2018, the lucky winners will be randomly selected from all the entrants. Good luck!

Today's Daily Kibble email is sponsored by the featured company.