21-derful Days of Christmas - Day 17
Bye Bye Bad Breath: WIN an All-Natural Fresh Breath Remedy for Dogs!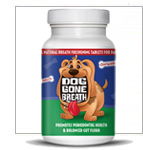 Does Fido wake you up every morning with a big sloppy (and stinky) kiss that makes you wish were back asleep? Maybe the power of his stench even makes you pass out? If your pup has absolutely horrid-smelling breath and slobber, it's a big red flag that something's not right inside of him. Either his teeth or his gut are suffering. When this happens to humans, the first front line remedy is to drop a mint that acts as a mask for the nasty smell. But, this doesn't do much to eliminate the deeper root issue.
With Dog Gone Breath, the all-natural ingredients work hard to fix internal imbalances (and they're the same ingredients that would benefit humans for the same ailments). Give these amazing chewable tablets (soon to also be available in powder form) a whirl and see how they improve your close relationship with Fido!
Fifteen lucky Daily Kibble subscribers will win a 60 tablet bottle of All-Natural Fresh Breath Remedy for Dogs from Dog Gone Breath on this, the seventeenth day of Daily Kibble's 21-derful Days of Christmas Contest! Please remember that you must enter each day in order to have a chance to win that day's prize.
Today's Daily Kibble email is sponsored by the featured company.