Your Picture-Perfect Pet – WIN a Personalized Pet Portrait! 2 Lucky Winners!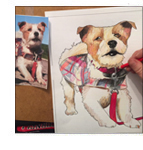 Looking to add a special portrait of your furry friend to the "wall of fame" in your home? Then, enter to win a personalized rendering of your pet by Alix Greenberg from Portraits for Good! With each wonderful work of art created, Portraits for Good donates a portion of its proceeds to a nonprofit organization of your choice, like Doctors Without Borders, the Trevor Project, or the ASPCA. Check out their website for a full listing of the amazing charities they support.

If you're one of our lucky winners, all you have to do is send them a photo of your beloved furry friend, select a charity that resonates with you, and wait a few weeks. Every piece of art is delivered beautifully wrapped, framed, and ready to hang on the wall! Soon you'll be the proud owner of a portrait that is more than worthy of the mantel. Talk about a Mona Lisa smile!
It pays to read Daily Kibble. 2 lucky Daily Kibble subscribers will each win a WIN custom 5x7 framed portrait of their pet! You can enter DAILY from April 6, 2017 to April 30, 2017 to increase your chances of winning! One entry per email address per day please. On May 3, 2017, 2 lucky winners will be randomly selected from all the entrants. Good luck!
Today's Daily Kibble email is sponsored by the featured company.